Dave Cook, Executive Director, Miami Beach Pride – Q and A with Dave Cook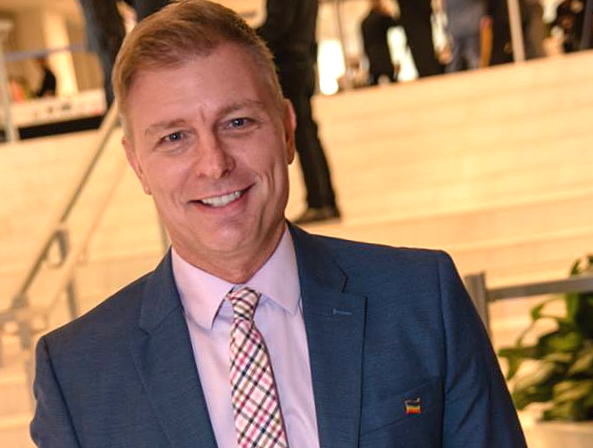 The MBVCA sat down with Dave Cook, executive director of Miami Beach Pride, to give the inside scoop on how the LGBTQ community in Miami Beach has evolved over the years and what he's most looking forward to at this year's Pride. For more information, visit https://miamibeachpride.com/.
Q&A with Dave Cook
How has gay-friendly travel changed over the past decade in Miami Beach?
According to our friends at the LGBT Visitor Center in Miami Beach, the biggest change has been the increase in international visitors. We remain a top destination domestically, of course, thanks to our reputation as a welcoming, diverse and inclusive community, and now we are happy to say that reputation has grown globally.
What events in this year's Pride program are you looking forward to seeing?
There are several. I truly enjoy the rainbow flag raising ceremony at Miami Beach City Hall. I think it's great that the local government is so invested in the LGBTQ+ community here that they proudly fly the rainbow flag over City Hall. Our Pride Lights the Night activation is also important because we pay tribute to the victims and families of the PULSE nightclub shooting. This is our third year for this tribute and we are honored to have Josean Garcia – a PULSE survivor – here to flip the symbolic switch that will light up buildings throughout the county in rainbow hues. We have our glamorous VIP Gala Friday night with prizes and surprises, including a vocal performance by the amazing Beth Anne Sacks. The Saturday Beach Party in Lummus Park is always a blast. Then, of course, our marquee event, the loud and proud Parade down Ocean Drive on Sunday beginning at noon. The fun continues at the Pride Festival afterward in Lummus Park.
What are iconic gay institutions on Miami Beach that are a must for visitors to visit?
For fun in the sun, the gay beach at 12th Street is great for people watching. Palace produces hilarious drag shows right on Ocean Drive and the food and drinks are terrific too. Twist promises "never a cover, always a groove" and is a great bar for meeting locals and visitors. Twist actually has seven different environments, so visitors are sure to find a vibe that matches their mood.
What makes Miami Beach such a popular destination for LGBTQ+ travelers
The beach, of course, as we're consistently ranked one of the best beaches in the world. But I have to say what I think makes Miami Beach so special is our welcoming and inclusive community, both LGBTQ+ and allied. You won't find a "gayborhood" in Miami Beach because LGBTQ+ people are so well integrated into the fabric of the community overall. It's not uncommon to see two boys or two girls walking down Lincoln Road holding hands and no one looks twice. People know they can come here, be their authentic selves and not be judged.
How does it feel to be part of such a pivotal event in the city's history?
It feels amazing. This is only our 11th Pride and when I tell people that, they are usually surprised. For one of the most LGBTQ+ welcoming cities in the world, our Pride is just a decade old. Previous Prides failed, and no one could figure out why. It was just 2008 when former mayor Matti Bower convened a committee of LGBTQ community leaders and gave them an edict: "create a gay pride event and make it a huge success." The original committee expected 5,000 spectators and 15,000 showed up. Last year we had 145,000 – which is larger than the population of Miami Beach! So, I'd say Pride has become a huge success!
What makes Miami Beach like no other place in the world?
The loud, colorful and committed spirit of our community!
---
About Miami Beach Visitor & Convention Authority
The MBVCA is a seven member authority, appointed by the City of Miami Beach Commission, with the goal of encouraging, developing and promoting the image of Miami Beach locally, nationally and internationally as a vibrant community and superb tourist destination. To this end, the MBVCA strategically focuses its funding investments in a balanced manner, fostering outstanding existing programs, stimulating new activities, and encouraging partnerships. The MBVCA is committed to a careful, long-term plan for allocation of resources to build the uniqueness of Miami Beach as ones of the world's greatest communities and tourism destinations.