Fun in the Sun: A Traveler's Guide to Summer in Miami Beach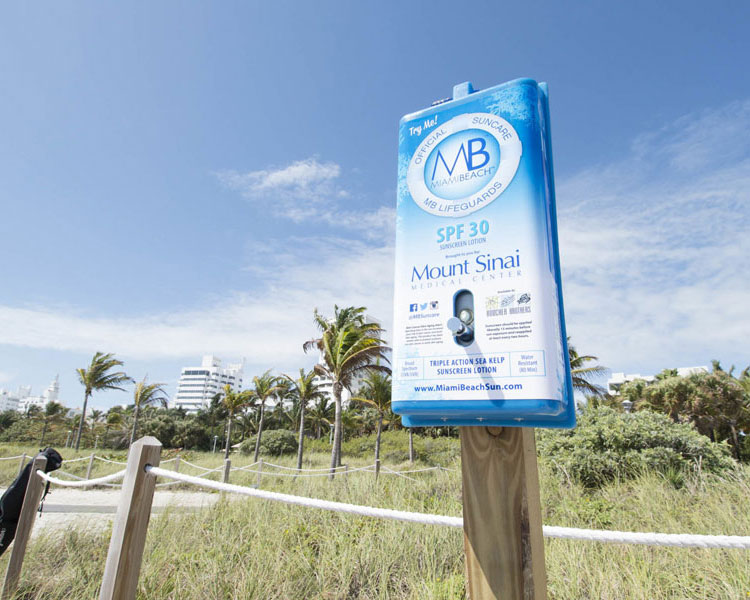 Travelers can start packing their bags now and head to Miami Beach's pristine sands thanks to a few tricks-of-the-summer-trade to keep beach-goers safe and protected from the seasonal elements. From free sunscreen to spa treatments, it's easy to get a summer glow safely when visiting Miami Beach with these easy-to-follow tips:
Be sun savvy. Everyone enjoys a little time in the sun and there are ways to decrease the risk of sunburns. The American Cancer Society reports that people who are heavily exposed to UV rays, found in sunlight, are at greater risk of skin cancer and that putting on sunscreen, a hat or even sunglasses are easy ways to help decrease sun exposure risks.
In support of sun safety, The City of Miami Beach launched the first free Suncare dispenser program for its residents and visitors. There are 50 dispensers offering free Miami Beach Suncare SPF 30 Sea Kelp Sunscreen Lotion throughout the city's public beaches, pools, and parks allowing users to enjoy fun in the sun safely.
"Summer is one of the best times to visit Miami Beach and we are dedicated to making it safe and easy for tourists and locals to enjoy the variety of activities available during this time of year with the Miami Beach free Suncare Dispenser Program," says Peggy Benua, Chair of the MBCVA. "We are a leader in this initiative that is extending to other cities across the nation, including the Town of Hempstead, NY and City of Long Beach, NY."
Apply early and repeat. The strongest hours of the sun are between 10 a.m. - 2 p.m. Re-applying sunscreen is key throughout the day, no matter where it takes you. From strolling Lincoln Road boutiques to breezy ocean walks, be sure to set an iPhone or watch alarm to sound every 2 hours as a reminder to lather! And remember, it's just as important for visitors to load up on SPF on cloudy summer days as well!
Take Cover. Sound impossible to stay indoors during the day on Miami Beach? July is the start of Miami Spa Month (runs through August), offering the best excuse to stay indoors and indulge in luxury spa treatments focused on keeping skin hydrated and refreshed.
Miami Spa Month Offers:
For more information on how to play it safe in the sun this summer, events and happenings for Miami Beach Spa Month, download the Miami Beach Information App at www.miamibeachapi.com/app/.
---
About Miami Beach Visitor & Convention Authority
The MBVCA is a seven member authority, appointed by the City of Miami Beach Commission, with the goal of encouraging, developing and promoting the image of Miami Beach locally, nationally and internationally as a vibrant community and superb tourist destination. To this end, the MBVCA strategically focuses its funding investments in a balanced manner, fostering outstanding existing programs, stimulating new activities, and encouraging partnerships. The MBVCA is committed to a careful, long-term plan for allocation of resources to build the uniqueness of Miami Beach as ones of the world's greatest communities and tourism destinations.