Juan Gervasio, Social Events Sales Manager of The Confidante Miami Beach Q&A with Juan Gervasio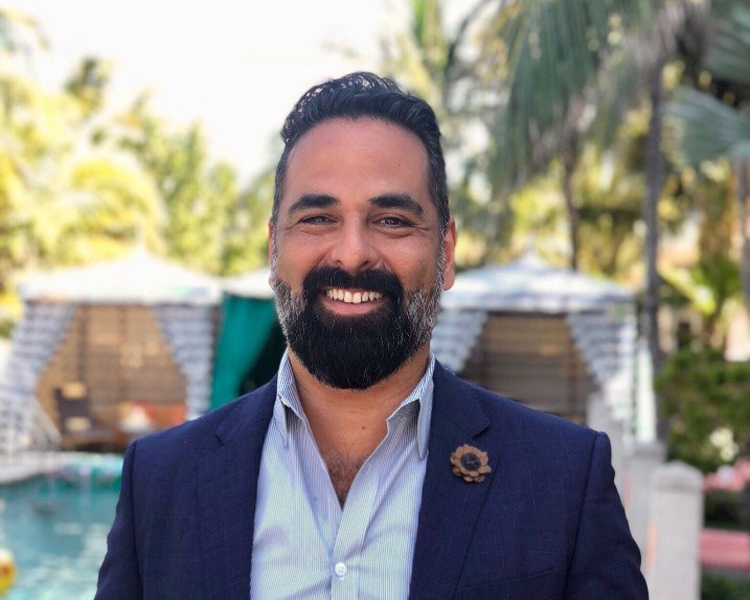 Juan Gervasio, Social Events Sales Manager of The Confidante Miami Beach
Q&A with Juan Gervasio
The MBVCA sat down with Juan Gervasio, Social Events Sales Manager of The Confidante Miami Beach, to give the inside scoop on summer weddings in Miami Beach. For more information, visit: theconfidantemiamibeach.hyatt.com.
1. Tell us about yourself. What is your title, and how long have you been part of the event planning team at The Confidante Miami Beach?
I am currently the Social Events Sales Manager for The Confidante Miami Beach and have been in this position since September of 2017. Prior to this role, I was the Director of Banquet at this property, in charge of planning, producing and executing seamless events. I have over 17 years' experience in the food and beverage experience.
I was born and raised in Venezuela and moved to Miami 20 years ago. Living in Miami has allowed me to experience different cultures and connect with people from all over the world. I love trying new restaurants, entertaining at home and being surrounded by friends, food, and music.
2. Summer is upon us and brides-to-be are in search of the best destination to say 'I Do.' In your opinion, what are the key ingredients for a perfect summer wedding?
With Miami Beach as the perfect backdrop for beachside weddings, brides-to-be should consider having their ceremony outdoors. The Confidante's Vista Terrace overlooks views of the Atlantic Ocean –surrounded by swift palm trees, relaxing ocean sounds, and warm breeze.
For the reception, wedding guests can celebrate in style in our Century Ballroom or Crown Room. These are two of spaces that are constantly in high demand throughout the summer months at The Confidante.
In late 2018, The Confidante Miami Beach will debut the Carmen Miranda oceanfront ballroom, named after the explosive Brazilian samba singer, dancer, and actress. The ballroom's outdoor terrace and pre-function area overlooking the beach and palm trees is sure to become a favorite among future brides.
3. Preparing for the big day can be immensely stressful. What are some offers available to brides, and their party, at The Confidante Miami Beach? Are there any special packages featuring spa treatments or wine?
Every bride's day should be special, which is why, as part of our bridal package, we offer a separate private room arranged with professional lighting and customized décor – perfect for capturing pictures with the bride and her "Confidantes" hanging out before the nuptials, as they get their hair and makeup ready.
The groom also receives a private room with a terrace as part of the package –perfect for enjoying a relaxing drink and bonding with his groomsmen. The groom and his crew often indulge in the hotel's Bourbon Welcome Experience ($475), which includes a sampling of Kentucky's Best Bourbons alongside bites from its southern-inspired signature restaurant, Bird & Bone. From the drink selection are bottles of E.H. Taylor, Jr. Single Barrel, Woodford Reserve Double Oaked, and Four Roses Elliott's Select Barrel. Accompanying bites include signature jars with avocado with blue cheese, honey, and almonds; egg salad with Benton's 12-month aged ham; and Whipped Sheep's Milk Ricotta with pepper jelly, all served with Heirloom Corn Chips, prepared by celebrated Miami chef Richard Hales.
Lastly, as part of this package, we offer great savings on spa treatments which can be offered in-suite for full-on pampering.
4. In your experience with planning weddings, what is the best and worst part of the planning process? How can brides-to-be avoid mishaps on their big day?
For some brides, the best part may be designing the dress or picking a theme for their big day, but from my perspective, it's the initial tour of the property because I get to experience first-hand couples being inspired by our mid-century décor with pops of Art Deco.
Our hotel offers the vintage glamour of Miami Beach in the 1950's, but with the sophistication and amenities of modern day. The entire property is full of personality – the open-air Vista Terrace immersed in nature, the funky and historic 1930s House backyard bungalow, the sophisticated Crown Room library bar and the multi-functional Century Ballroom.
For me, the worst part of wedding planning is seeing what causes brides the most mishaps on their big day: not having a wedding planner to assist them throughout the process. There are so many details that go into planning the perfect wedding, that it keeps brides from relaxing and enjoying their big day. We have relationships with wonderful, experience planners who can assist with all details and help steer the ship the day of.
5. With summer weddings, it's all about the color scheme. What are some fun and romantic colors perfect for a summer destination wedding on Miami Beach? What makes these colors pop?
A favorite of mine is dusty rose and pastel green. This color combination incorporates feminine and masculine accents for the couple, it works well with any décor; couples can add touches of white, gold, silver and other soft colors like lavender – essentially a softer version of Pantone's Color of the Year, Ultra Violet – which evokes feelings of the mystery of the cosmos and intrigue of what lies ahead. We love this combination because it ties in organic, natural and neutral elements together, which are perfect for a beachfront wedding, especially with the lush, tropical backyard we have at The Confidante Miami Beach.
6. Finally, what can brides-to-be expect from the event planning team at The Confidante Miami Beach?
A professional, dynamic and experienced team that specializes in not only weddings but events of all kinds. The team is friendly, honest, and has relationships with great vendors, planners and beyond. Among them:
Something special for everyone – Parrish Designs is one of our regular vendors and an in-demand florist in Miami that's known for creative and clean designs.
Something extra – Simple Rustic is an in-demand rental company that's known for their rustic and reclaimed wood elements and a close partner of The Confidante Miami Beach.
Something cute and unique – Cielito Artisan Pops is a brand that's available onsite that offers fun dessert tables and customizable DIY toppings.
---
About Miami Beach Visitor & Convention Authority
The MBVCA is a seven member authority, appointed by the City of Miami Beach Commission, with the goal of encouraging, developing and promoting the image of Miami Beach locally, nationally and internationally as a vibrant community and superb tourist destination. To this end, the MBVCA strategically focuses its funding investments in a balanced manner, fostering outstanding existing programs, stimulating new activities, and encouraging partnerships. The MBVCA is committed to a careful, long-term plan for allocation of resources to build the uniqueness of Miami Beach as ones of the world's greatest communities and tourism destinations.