Larry Simms, Dawn Lyon and Michael Hamilton, Co-Owners of The Front Porch Cafe - Q&A with Larry Simms, Dawn Lyons and Michael Hamilton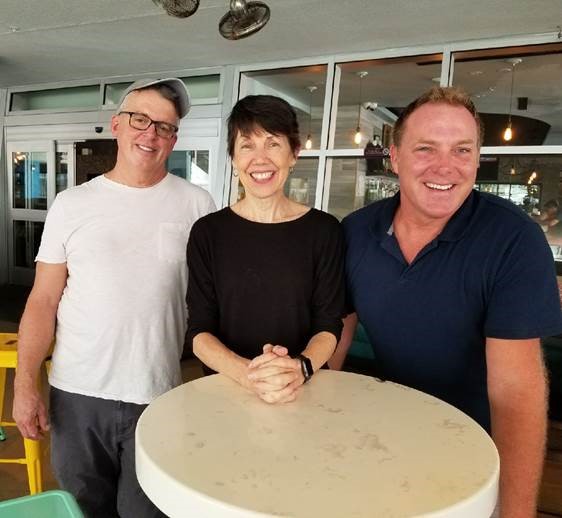 1. Tell us about yourself. What was the inspiration behind Front Porch Café?
We moved to South Beach in 1988 because it was so beautiful, rent was cheap, yet a lot was in disrepair. We were living in the newly renovated Crescent apartments on Ocean Drive and our landlord had covered the alley between the Crescent and the McAlpin Hotel apartments to create a space for a tiny restaurant, which included the front porches of the hotel. We thought we could create a homey space for diners, cultivate a menu that was fresh, home-made and reasonable, thus the Front Porch Café was born! 28 years later and two moves up the block, we're still here!
2. What are some of the most popular dishes served at Front Porch Café? Which are your personal favorites and why?
We are best-known for how big our breakfast selection is… and that we serve it all day! pancakes, french toast (our french toast is still the world's best comfort food), eggs in all forms, fish and shrimp tacos are just some of our most popular dishes. Our favorites are the items we put a lot of effort into like the homemade granola, biscuits with honey butter and jam and breakfast tacos with kimchi. Many moons ago I (Larry) was at a bar on Ocean Beach in San Diego and the bartender asked me if I wanted fish tacos. I told her that was the grossest thing I had ever heard of. Offended, she bought me one… which I ate and loved. That encounter led to fish tacos being one of the hottest items on our menu!
3. Front Porch Cafe is widely known in Miami Beach; how does it feel to be owners of a restaurant that provides such a memorable experience for food lovers and the LGBTQ community?
We are amazed that so many years have gone by since we first opened. Miami Beach has undergone so many changes since we opened and if it wasn't for the gay community, we would never have survived those early years and for that we are forever grateful! Being a part of the LGBTQ community ourselves, it's natural for us to embrace how even more diverse Miami Beach has become.
4. As a Miami Beach local, what are three of your go-to LGBTQ-friendly hotspots or events (in addition to Front Porch Café)?
Many from the Front Porch Café still go the places that are mainstay Miami Beach hotspots like Palace South Beach Bar, located just steps away from the bustle of the beach; Balans Restaurant and Bar; in the epicenter of Lincoln Road Mall and Hotel Gaythering; a crowd favorite for us locals and tourists.
5. Miami Beach continues to dominate the travel space as an award-winning LGBTQ destination, with accolades from 2018, 2017 and 2016 editions of the Travvy Awards, as well as the 2017 Magellan Awards. In your opinion, how has tourism and gay-friendly travel improved in Miami Beach since Front Porch Café was opened?
When we first opened back in 1990, Miami Beach was a run-down beach town with a quirky cast of characters. It was fun, but not an easy time to make a living. Gay tourism helped put Miami Beach back on the map. The city now has a large local LGBTQ community and continues to welcome people from around the world. Events like PRIDE Week, restaurants, hotels and businesses show their true support for the LGBTQ community and it shows in such a gratifying and heartfelt way.
6. In your opinion, why is Miami Beach a city like no other place in the world?
Miami Beach is the perfect combination of the beautiful blue ocean, seven miles of white sandy beach alongside streets of unique art deco hotels and the best hotel groups in the world. You're going to get quite the experience while traveling to the city. Miami Beach is brimming with restaurants, art cinemas, shopping and has a great history of gay culture. Tourists and residents are all diverse, almost every person living in Miami Beach is either from a different state in the US or from a different country in the world… what could be better? We are so lucky to live and work in such a vibrant community smack dab in the middle of paradise.
---
About Miami Beach Visitor & Convention Authority
The MBVCA is a seven member authority, appointed by the City of Miami Beach Commission, with the goal of encouraging, developing and promoting the image of Miami Beach locally, nationally and internationally as a vibrant community and superb tourist destination. To this end, the MBVCA strategically focuses its funding investments in a balanced manner, fostering outstanding existing programs, stimulating new activities, and encouraging partnerships. The MBVCA is committed to a careful, long-term plan for allocation of resources to build the uniqueness of Miami Beach as ones of the world's greatest communities and tourism destinations.