Miami Beach Helps Travelers De-Stress During the Holiday Season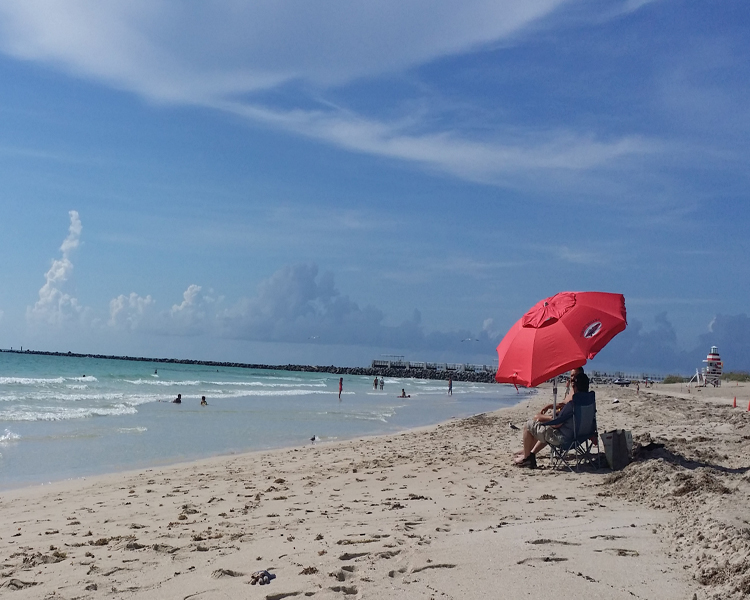 Miami Beach – November 13, 2017 – The official holiday season is approaching and Miami Beach is giving travelers a chance to gift themselves with a detox getaway through a host of seasonal deals. Starting this month, vacationers can trade in their boots for flip flops and hot cocoa for healthy mojitos as they enjoy discounts at destination hotels, spa treatments rooted in wellness and restaurants serving up fresh and natural fare, all to help de-stress travelers during the season.
"Miami Beach is the poster child for relaxation and renewal under the sun, especially during the holiday season" said Peggy Benua, Chair of the MBVCA and General Manager of Dream South Beach. "As a destination that is truly like no other place in the world, Miami Beach is ready to pamper travelers and help them relax and enjoy the most wonderful time of the year."
With the finest spas, hotels and restaurants, Miami Beach welcomes tourists looking to experience a stress-free holiday season. Travelers can choose from a host of options now available:
Before the turkey and holiday cocktails comes a specialty slimming massage. Enjoy a 60-minute treatment that reduces the appearance of cellulite and fluid retention, and a 30-minute Bourbon Tea Intense Body Wrap that leaves the body renewed. This treatment is priced at $260 for 90 minutes.
Indulge in a reinvigorating massage and facial that includes a take-home Infusion Tea Bag, perfect to combat the stress associated with holiday gatherings and events. This treatment is priced at $220 for 90 minutes.
Take holiday relaxation to the next level with an extended Miami Beach stay. Book a seven-night getaway and receive two nights free, a $75 food and beverage credit, and a free 75-minute massage.
Learn new yoga moves and find healthier ways to de-stress with $25 yoga classes on the deck and inside The Standard Spa. This offer is only available to guests.
Immerse into a full-body detox experience with the 50-minute detoxifying massage priced at $129, or a deep pore detox for $139. These deep cleansing rituals rid the body of toxins and leaves the skin feeling refreshed and glowing.
Health conscious vacationers can find fuel at key restaurants that cater to those looking to stay on track despite the temptations of the season:
DIRT:
Seasonal items like the Autumn Poke Bowl, Gold x Innergy Smoothie and locally-crafted Kombucha are just a few healthy options available from $3-$15. With each purchase of the Gold x Innergy Smoothie, DIRT will give a voucher for a free meditation session at Innergy.
Take a pre-holiday trip to Miami Beach and have a healthier start to the day with signature juices, like Robert's Green Juice and Bet-A-Beet, which include spinach and kale or beets and celery for just $10.
For more information and updates on additional ways to relax in Miami Beach this holiday season, download the Miami Beach Information App at www.miamibeachapi.com/app/.
ABOUT MIAMI BEACH:
Recently named the World's Leading City Tourist Board in 2016 and 2016 North America's Leading Tourist Board by the World Travel Awards, first place in the 2017 and 2016 edition of the Travvy Awards, presented by travAlliancemedia in the categories of "Best LGBTQ Destination" and "Best Wedding Destination, U.S. & Canada" and a winner of the 2014, 2015 and 2016 Magellan Awards by Travel Weekly in the categories of "Destinations | Mobile App", "Overall Spa Destinations| U.S and Canada" and "Overall Beaches Destinations| U.S and Canada" respectively, Miami Beach is a favorite destination among travelers worldwide. Renowned for its unparalleled culinary offerings, extravagant nightlife, rich culture, luxe shopping and plush hotels, Miami Beach is home to unique museums, the New World Symphony, Miami City Ballet, Miami Beach Convention Center, international festivals and art exhibitions, boat and auto shows, over 187 boutique and resort hotels and 12 public parks; it is no wonder the beautifully diverse city is one of the world's most popular vacation destinations. Boasting seven miles of breathtaking beaches, Miami Beach is easily accessible from the Port of Miami and Miami International Airport. The City of Miami Beach has been named one of the top cities worldwide for 'walkability' and is equally easy to navigate by bike or boat. Known for its year-round sunny skies, the vibrant destination has been ranked by TripAdvisor as a Top Winter Sun Vacation Rental Getaway Destinations, Top Romantic Destinations, Top 25 Beaches in the World and Top 25 Destinations in the U.S. Miami Beach is like no other place in the world!
---
About Miami Beach Visitor & Convention Authority
The MBVCA is a seven member authority, appointed by the City of Miami Beach Commission, with the goal of encouraging, developing and promoting the image of Miami Beach locally, nationally and internationally as a vibrant community and superb tourist destination. To this end, the MBVCA strategically focuses its funding investments in a balanced manner, fostering outstanding existing programs, stimulating new activities, and encouraging partnerships. The MBVCA is committed to a careful, long-term plan for allocation of resources to build the uniqueness of Miami Beach as ones of the world's greatest communities and tourism destinations.