Miami Beach Welcomes Travelers and Their Pets with Pet-Friendly Hotels and Perks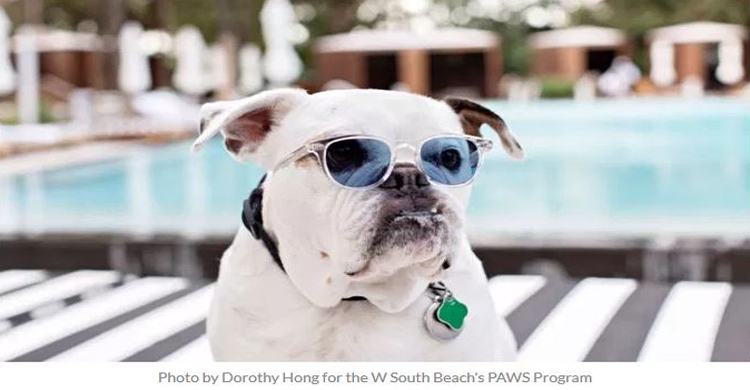 Miami Beach, FL – March 14, 2018 – Tropical beach vacations for pet owners frequently come with the letdown and hassle of having to leave those four-legged friends at home, but not for those visiting Miami Beach. Home to the best weather and a host of award-winning hotels, one-of-a-kind entertainment, fabulous restaurants and retailers, the city is a paradise for vacationers and their pets. From the PAW program at the W South Beach to the off-leash Flamingo Bark Park, Miami Beach caters to Fido and friends.
"Miami Beach is one of the world's most pet-friendly cities," says Grisette Roque, Executive Director of Miami Beach Visitor and Convention Authority (MBVCA). "Hotels and businesses know travelers don't want to cut vacations short or leave their beloved pets behind. Our significant number of pet-friendly perks and programs make Miami Beach like no other place in the world for both visitors and their pets."
Traveling with pets is on the rise across the country. According to the American Pet Product Association (APPA), 67 percent of dog owners say their dog relieves stress.[1] In addition, 47 percent of Americans own a dog, and 37 percent own a cat. Research conducted by TripAdvisor found that 53 percent of respondents travel with their pets and 52 percent stated they would only stay at pet-friendly properties.[2]
Below are Miami Beach pet-friendly perks and places to bark about:
Pet-Friendly Hotels:
At the W South Beach, pets are greeted with custom-designed amenities as part of the hotel's Pets Are Welcome (PAW) Program. Amenities include pet toys, pet treats, a W South Beach pet tag, W South Beach pet bed, food and water bowl, clean-up bags, a 'pet in room' door sign and details about the W South Beach's Whatever/Whenever pet services. The W South Beach charges a $25 fee to host a pet and a non-refundable $100 cleaning fee.
Loews Hotel ensures that pets will be waited on hand and paw as Very Important Pets (VIPS) while on a relaxing vacation. Exclusively part of the Lowes Loves Pets Program, gourmet room service menus for cats and dogs, dog walking routes and pet-sitting services are offered to make sure every four-legged friend feels comfortable in their home away from home. The Loews charges a flat rate of $50 per stay to host a pet.
This beachside haven hotel offers a variety of options to make sure all pups are pampered. Guests can experience a couple's massage like no other at The Betsy's outdoor spa; where pets enjoy healthy nibbles and an aromatherapy massage alongside their owners. The Betsy charges a $150 per dog fee and donates the funds to a satellite charity in Zimbabwe at the SPCA.
Pet-Friendly Activities:
One of Miami Beach's top shopping hubs, Lincoln Road Mall has a vast number of stores and restaurants that accommodate pets. Visitors can sit outside and enjoy a nice lunch at Sushi Samba or Spris while their puppy friends enjoy a bowl of refreshing water. Note that dogs must be kept on their leashes at all times while strolling through this busy city center.
Art Deco Tours with Christine & Company
Discover the culture of Miami Beach and its history of Art Deco architecture in the company of your furry best friend. This Art Deco Tour allows guests to bring pets, and although not all building allows for pets to enter, Christine & Company provides a pet companion for $30 per pet with water, a water bowl and waste bags. Pet reservations must be made at least two weeks in advance.
Pet-Friendly Parks:
Right in the heart of Miami Beach, Flamingo Bark Park, an off-leash dog park, allows all four-legged friends to roam free in two doggy play areas. Dogs can play in either the run areas for smaller breeds or larger breeds; with access to drinking stations and biodegradable baggie stations.
At the Washington Park and Community Garden, Monday to Sunday, sunrise to sunset, the Washington Park and Community Garden offers a vast area for dogs to unleash, play and socialize. Drinking fountains with doggie water spigots are available along with two double-gated dog runs.
For more information on ways to enjoy the perfect pet getaway in Miami Beach, download the Miami Beach Information App at www.miamibeachapi.com/app/.
ABOUT MIAMI BEACH
Recently named the World's Leading City Tourist Board in 2016 and 2016 North America's Leading Tourist Board by the World Travel Awards, first place in the 2017 and 2016 edition of the Travvy Awards, presented by travAlliancemedia in the categories of "Best LGBTQ Destination" and "Best Wedding Destination, U.S. & Canada" and a winner of the 2014, 2015 and 2016 Magellan Awards by Travel Weekly in the categories of "Destinations | Mobile App", "Overall Spa Destinations| U.S and Canada" and "Overall Beaches Destinations| U.S and Canada" respectively, Miami Beach is a favorite destination among travelers worldwide. Renowned for its unparalleled culinary offerings, extravagant nightlife, rich culture, luxe shopping and plush hotels, Miami Beach is home to unique museums, the New World Symphony, Miami City Ballet, Miami Beach Convention Center, international festivals and art exhibitions, boat and auto shows, over 187 boutique and resort hotels and 12 public parks; it is no wonder the beautifully diverse city is one of the world's most popular vacation destinations. Boasting seven miles of breathtaking beaches, Miami Beach is easily accessible from the Port of Miami and Miami International Airport. The City of Miami Beach has been named one of the top cities worldwide for 'walkability' and is equally easy to navigate by bike or boat. Known for its year-round sunny skies, the vibrant destination has been ranked by TripAdvisor as a Top Winter Sun Vacation Rental Getaway Destinations, Top Romantic Destinations, Top 25 Beaches in the World and Top 25 Destinations in the U.S. Miami Beach is like no other place in the world!
---
[1] https://parade.com/651074/leannepotts/for-the-love-of-dogs-meet-the-pet-lovers-who-are-crazy-for-canines/
[2] https://skift.com/2017/01/31/pet-friendly-travel-is-growing-yet-still-complicated/
---
About Miami Beach Visitor & Convention Authority
The MBVCA is a seven member authority, appointed by the City of Miami Beach Commission, with the goal of encouraging, developing and promoting the image of Miami Beach locally, nationally and internationally as a vibrant community and superb tourist destination. To this end, the MBVCA strategically focuses its funding investments in a balanced manner, fostering outstanding existing programs, stimulating new activities, and encouraging partnerships. The MBVCA is committed to a careful, long-term plan for allocation of resources to build the uniqueness of Miami Beach as ones of the world's greatest communities and tourism destinations.