Robert Lansburgh, Founder and Creative Director of South Beach Mango Festival - Q&A with Robert Lansburgh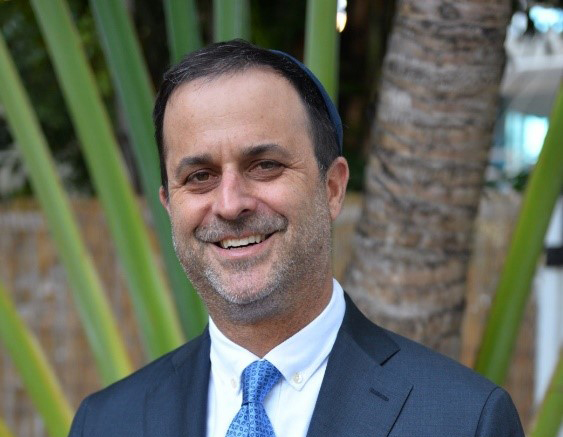 1. Tell us about yourself. What was the inspiration behind South Beach Mango Festival?
I was born and raised in Miami Beach as a third-generation resident and currently live with my wife and kids in South Beach. My grandfather was a well-known hotelier and figure here in the 50's 60's and 70's. He was widely credited with introducing the American plan and Cavalcade of Stars which brought big name acts to Miami Beach. My father, Leonard, and mother Carole, built on that foundation and for many years were in the travel business, David Travel's.
I currently work in real estate and take part in several community activities. As someone who grew up in Miami Beach, I knew mangos at a very young age, at times inviting friends over to eat mangos from the trees at our home on Normandy Island. In recent years, I've made some great connections through Craigslist, with private individuals who sell them, fueling a love of various types of mangos. On a typical week, I purchase as many as 150 mangos for myself and friends. While sharing I discovered that many did not know we grew such delicious fruits, everyone's reaction "amazing". In 2017 the Fair Child Tropical Gardens had their Mango Festival early and I missed the festival. With this disappointment in mind and while eating, a Mango I said to my wife "we should have a Mango Festival here in Miami Beach". I knew I was on to something when my mother and wife both said, "That's a good idea!".
2. South Beach Mango Festival is donating a portion of proceeds to Big Brothers Big Sisters. How did you come to the decision of connecting with this specific charity ad why?
Shortly after the decision to proceed with the Mango Festival I asked Allen Susser to join me in producing this festival and he suggested that we involve a charity. A few charities were discussed, but chose Big Brothers Big Sisters because both my aunt Merle and I have a long history with the organization. My aunt was formerly a social worker for BBBS and I at one point had been a 'big brother'. My 'little brother' Steven Abraham often tells me, "you don't know how you've changed my life". I share this in hope that others might be inspired to be a "Big". The kids' perspective is much different than the adults' perspective.
3. In your opinion, what type of impact are you hoping South Beach Mango Festival will have on the local community of Miami Beach?
In recent years, the residents of Miami Beach have become distanced from their beloved Ocean Drive. We hope this Mango-inspired event sparks a reason for residents to come back to Ocean Drive. The event is designed to cater to all groups of people and all ages. The fruit theme is sure to resonate with all people who care about health and well-being. Through this festival, we hope to turn people's attention to hardworking farmers restauranteurs and entertainers that make South Florida so unique. South Florida can arguably claim to be "Mango Capital of the USA".
4. What are some of your favorite places to visit in Miami Beach and why?
I love venturing into the city of Miami Beach with my whole family. We have 3 favorite parks that we consistently visit. South Pointe Park has a great view with expansive space for our kids to play, including a small water park and play area. Lummus and Flamingo Parks are two other spots that offer beautiful scenery and amenities.
The weekly farmers market on Lincoln Road Mall is a great place to grab fresh fruits (mangos!), home-made ceviche, vintage goods and much more. In addition, the host of open-air restaurants and stores are enough to keep my whole family strolling through for the day.
South Beach overall is filled with so much history, from architecture to culture, the overall island feel makes Miami Beach one great place to live and work.
5. In your opinion, why is Miami Beach the best destination to host the South Beach Mango Festival?
Miami Beach is a world-class destination that caters to people from all walks of life. The Mango aka The King of Fruits, shares the same worldwide acclaim. The two are universally recognized and shall be celebrated in unison. Mango season runs from June through September and is widely unknown to our new residents and visitors of South Florida. The Festival is a whole new front for South Florida and puts mangos in the spotlight… and we all know South Beach can shine a big spotlight.
6. Miami Beach is home to a wide-array of world-renowned festivals and events such as Miami Beach Gay Pride Parade, South Beach Wine and Food Festival and Miami Swim Week, do you see South Beach Mango Festival becoming a key city-wide event in the future?
Most certainly, yes. The popularity of mangos, and our other locally grown fruits such as coconuts, jackfruit, dragon fruit, mamey and other locally grown fruits is certain to win hearts and minds of residents and visitors at South Florida. With South Florida increasing its reach with new international flights and new residents each year, the Mango Festival will become a part of the summer season. I'm just a simple man that loves Mangos that came up with an idea. Do I think this is good for South Florida, Miami Beach, Mangos, and all mankind? Absolutely. I think I'll go eat one right now…excuse me :) See everyone August 5th, can't hardly wait!
---
About Miami Beach Visitor & Convention Authority
The MBVCA is a seven member authority, appointed by the City of Miami Beach Commission, with the goal of encouraging, developing and promoting the image of Miami Beach locally, nationally and internationally as a vibrant community and superb tourist destination. To this end, the MBVCA strategically focuses its funding investments in a balanced manner, fostering outstanding existing programs, stimulating new activities, and encouraging partnerships. The MBVCA is committed to a careful, long-term plan for allocation of resources to build the uniqueness of Miami Beach as ones of the world's greatest communities and tourism destinations.