Spotlight: Cody Patrick & Matthew Miller, Co-Founder/Co-Owners of Sweat 440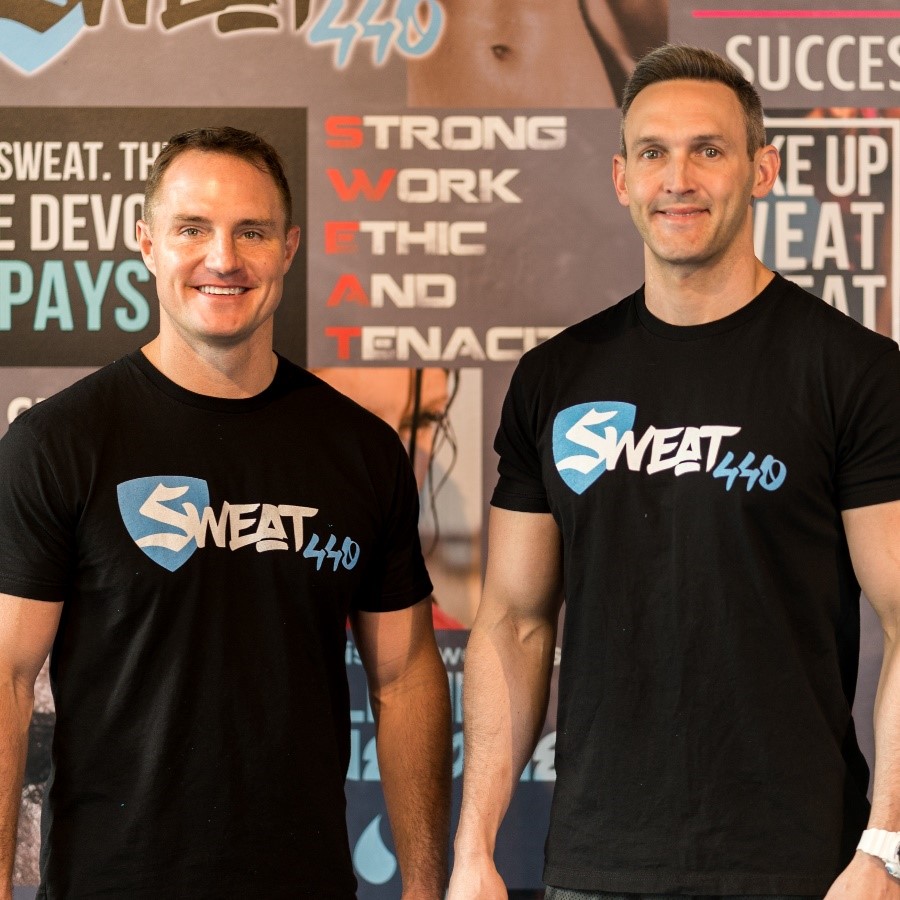 Q&A with Cody Patrick and Matthew Miller
Tell us how did Sweat 440 begin?
Cody: Matt approached me with a concept of designing an assembly line type of group fitness class so that we could constantly revolve people through without the limitations of class times. We began to work on the project and we combined our different types of experience to develop Sweat440. With our mix of fitness experience, computer technology experience, and business management experience we were able to develop something unique to the fitness industry and it has really taken off!
Matt: I believe both Cody and I saw an opportunity to provide something truly unique to the boutique fitness community. I personally was never one for group fitness classes, but the number one complaint I heard from my clients and friends was how inconvenient it was to work their busy schedule around the class times that their favorite studio offered. By organizing our class structure the way we have, we have effectively eliminated that inconvenience, and really, one of the biggest excuses to working out.
How has being Boutique Gym Owners changed your perspective on Miami Beach and the Wellness Industry?
Matt: I moved to Miami Beach 13 years ago and started MillerFit, an in-home personal training service. I was very fortunate that I found success in one building in Miami Beach and never had to leave that building for the bulk of my work days. Staying in one place is advantageous from a time and money stand point, however it was rather seclusive. For me, opening Sweat440 has introduced me to an entirely different community that I never knew existed. I am a people person at heart, and absolutely love the day to day interaction with the wonderful people who support our small business and make this whole experience fun for Cody and myself.
Cody: We are able to reach a much larger cross section of our community while also being able to provide a good specialized service.Being boutique, we are able to remain small enough to treat our customers as individuals and give them service while also being able to accommodate a large number of people!
Where are your favorite outdoor spots in Miami Beach to de-stress and relax?
Cody: I love paddle boarding in the bay. And running all over the city.
Matt: I love going to the beach and relaxing in the sun or going to take a stroll in South Pointe Park.
What makes Sunset Harbor the perfect location for Sweat 440?
Matt: We thought long and hard about where we were going to open our first location, and I think we made the best decision for our new business. Sunset Harbour is a unique micro-community with a centralized health consciousness unlike any I've ever seen. Moreover, the neighboring businesses have been some of our earliest and most loyal supporters. The experience of being a part of this community and hopefully giving back as much support as we are receiving, has truly been amazing.

Cody: Our fitness neighbors are amazing and we all bring the fit-minded people to our area together.The restaurants are excellent also which is a great draw! We are also very accessible, and parking is easy!

If you had 40 minutes in Miami Beach where would you go?
Cody: Sweat440 of course.
Matt: Ditto

How is Miami Beach like no other place in the world?
Cody: We have a multi-cultural and diverse group of people living and visiting our city. The weather is amazing, and the city is beautiful.

Matt: I am a small-town guy from NC, and I fought kicking and screaming to get out! However, at my core, I am still a small-town guy. I believe Miami Beach is unique in that it really does feel like a small town even though it has many of the advantages a larger city would provide. I always run into people I know, but at the same time, though I am constantly introduced to new interested people from very diverse backgrounds. I can go to local restaurant in Sunset Harbour or South of Fifth, or I can go to one of the larger hotel spot in the Art Deco District and get a completely different vibe. I can catch a simple sunset with friends or go to a unique event you might not find anywhere else. To top it all off, you have all this going on with one of the most beautiful beaches in the world within walking distance, it is tough to beat that!
---
About Miami Beach Visitor & Convention Authority
The MBVCA is a seven member authority, appointed by the City of Miami Beach Commission, with the goal of encouraging, developing and promoting the image of Miami Beach locally, nationally and internationally as a vibrant community and superb tourist destination. To this end, the MBVCA strategically focuses its funding investments in a balanced manner, fostering outstanding existing programs, stimulating new activities, and encouraging partnerships. The MBVCA is committed to a careful, long-term plan for allocation of resources to build the uniqueness of Miami Beach as ones of the world's greatest communities and tourism destinations.