There's Nowhere Else Like Miami Beach To Stay Active, Healthy and Inspired With Exciting Experiences All Year Long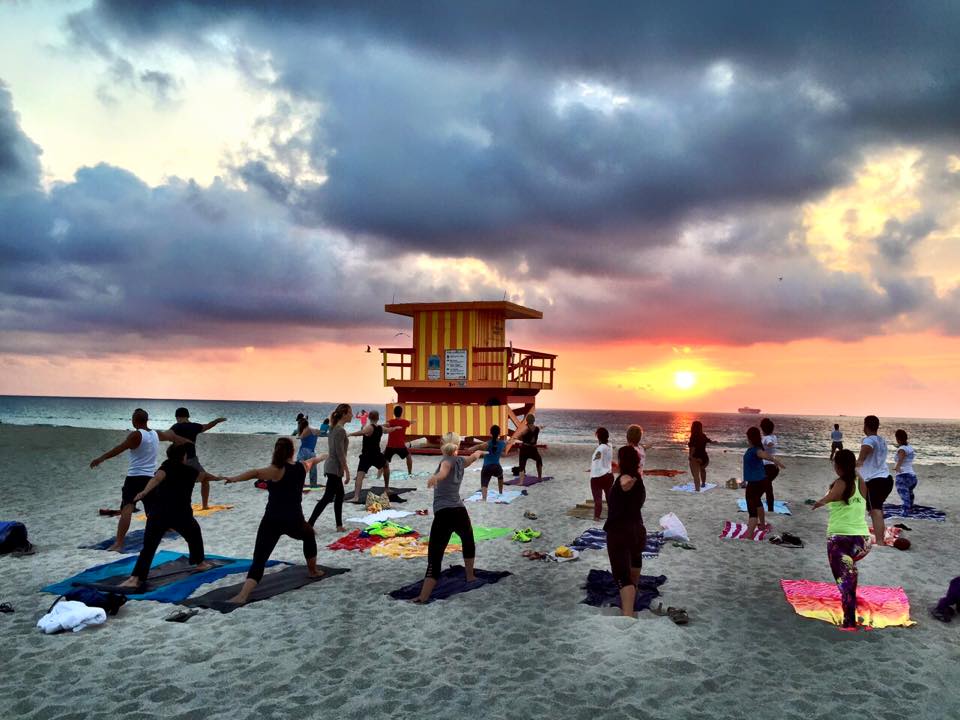 Miami Beach, FL – Feb 11, 2019 – Miami Beach is a paradise for travelers who want to immerse themselves in energetic, active and outdoor experiences. With enviable and mild temps most the year, the city is a playground that offers a multitude of outdoor activities on almost every traveler's wish list. Enjoy the tropical climate of the island city by spending time outdoors, sightseeing, swimming poolside or on the beach, doing yoga, bicycling and when ready, relaxing with refreshing poolside bites and cocktails. According to Forbes magazine, "The upcoming trend in travel is personalization. Everyone has different interests: some people are into camping, others are into staying at boutique hotels or getting pampered in spas, while others may prefer large beach resorts….all travelers should be able to build their trips around their personal tastes and enjoy experiences that fit their personalities."[1]
Known for being one of the most walkable cities in the U.S., Miami Beach also offers a great mix of pedestrian streets, rental bikes, public trolleys, and buses to whisk visitors to their next destination within the city effortlessly. "We want visitors to know that traveling doesn't mean you have to sacrifice your active lifestyle", says Steve Adkins, Chair, the Miami Beach Visitor and Convention Authority (MBVCA). "Miami Beach is packed with one-of-a-kind, vigorous experiences for those looking for an away adventure. The best way to familiarize oneself with a new city is by exploring on foot. We're encouraging visitors to do just that or rent a public Citibike, or hop on one of our many free trolleys, so they can get to our beaches, parks, spas and walking/biking paths among dozens of health-conscious experiences our city has to offer."
Whether traveling for business or visiting with family or friends, the Miami Beach Visitor and Convention Authority says this list of curated experiences should be top-of-mind for travelers craving healthy, wholesome, active fun in the city. Real time recommendations and a local's look at Miami Beach is also available through Instagram, Facebook and Twitter @experiencemiamibeach
Adventure Pursuers
Wellness Enthusiasts
Miami Beach's oldest yoga studio, Synergy Yoga hosts free yoga sessions "Yoga a la Española" every Saturday at 9:30 am. Yogis can also watch the sunrise on the beach at 3rd Street Beach Yoga.
Unwind at 1 Hotel's Sandbox with farm fresh and locally sourced snacks; don't forget to order a refreshing Frosé.
Active Lifestyle:
Runners can take the scenic route on the beach. Get off sand but still enjoy the view when you walk on the Miami Beach Boardwalk, or Venetian Causeway.
Get to know the city on rental bikes or see the city like a local on the free-public trolley
Join fitness aficionados at the outdoor gym, Muscle Beach South Beach for free exercise, weight lifting and gymnastics, all while enjoying the Miami Beach weather.
For more information on the best ways to experience Miami Beach in 2019, download the Miami Beach app at http://www.miamibeachapi.com/.
ABOUT MIAMI BEACH
Awarded first place in the 2018, 2017 and 2016 edition of the Travvy Awards, presented by travAlliancemedia in the categories of "Best LGBTQ Destination" and "Best Wedding Destination, U.S. & Canada," recently named 2017 and 2016 World's Leading City Tourist Board in and North America's Leading Tourist Board by the World Travel Awards, and a winner in the 2014, 2015 and 2016 Magellan Awards by Travel Weekly in the categories of "Destinations | Mobile App", "Overall Spa Destinations| U.S and Canada" and "Overall Beaches Destinations| U.S and Canada" respectively, Miami Beach is a favorite destination among travelers worldwide. Renowned for its unparalleled culinary offerings, extravagant nightlife, rich culture, luxe shopping and plush hotels, Miami Beach is home to unique museums, the New World Symphony, Miami City Ballet, Miami Beach Convention Center, international festivals and art exhibitions, boat and auto shows, over 187 boutique and resort hotels and 12 public parks; it is no wonder the beautifully diverse city is one of the world's most popular vacation destinations. Boasting seven miles of breathtaking beaches, Miami Beach is easily accessible from the Port of Miami and Miami International Airport. The City of Miami Beach has been named one of the top cities worldwide for 'walkability' and is equally easy to navigate by bike or boat. Known for its year-round sunny skies, the vibrant destination has been ranked by TripAdvisor as a Top Winter Sun Vacation Rental Getaway Destinations, Top Romantic Destinations, Top 25 Beaches in the World and Top 25 Destinations in the U.S. Miami Beach is like no other place in the world! Experience Miami Beach on Twitter @experiencemiamibeach and Instagram @experiencemiamibeach.
---
---
About Miami Beach Visitor & Convention Authority
The MBVCA is a seven member authority, appointed by the City of Miami Beach Commission, with the goal of encouraging, developing and promoting the image of Miami Beach locally, nationally and internationally as a vibrant community and superb tourist destination. To this end, the MBVCA strategically focuses its funding investments in a balanced manner, fostering outstanding existing programs, stimulating new activities, and encouraging partnerships. The MBVCA is committed to a careful, long-term plan for allocation of resources to build the uniqueness of Miami Beach as ones of the world's greatest communities and tourism destinations.