Tim Rodgers, Director of The Wolfsonian-FIU - Q&A with Tim Rodgers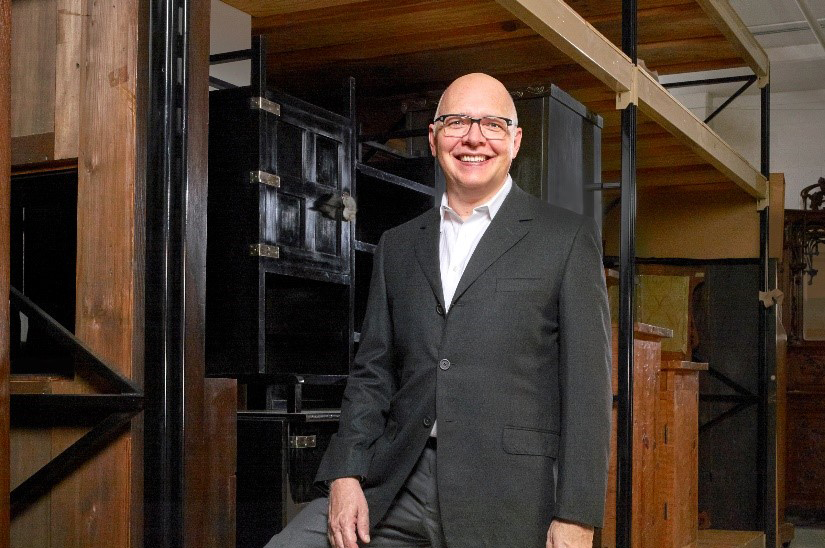 Tell us about The Wolfsonian-FIU and what visitors can expect to experience?

The Wolfsonian–FIU is entirely unique in the cultural landscape of Greater Miami. We are a museum devoted to examining objects of the modern age, which we loosely define as lasting from 1850 to 1950, and the stories embedded in those objects. While many associate the art world of Miami and Miami Beach with contemporary art—and I should flag that we do often collaborate with contemporary artists and designers ourselves!—we are truly an outlier for our mission of looking back at this critical time period in order to make sense of the world around us. We often say that the past is the key to understanding the present and the future, and that philosophy is something that sets The Wolfsonian apart.

Our founder, Micky Wolfson, was interested in almost anything mankind created, and today our collection numbers over 180,000 things. That means that what you'll experience in our galleries is far more wide-ranging than what you would see at a more traditional institution: beyond paintings and sculpture, we also have vacuums, radios, toasters, and postcards. I think many visitors are surprised to walk through our galleries and recognize objects from their own lives, or their parents' and grandparents' lives. We don't necessarily limit our storytelling to material that represents "the best of the best" examples of a movement or an artist's career—we fill in the blanks to present a bigger, more fleshed-out picture.
Miami Beach is a culture hub known for catering to the interests of every tourist, no matter their background. With Art Basel right around the corner, any preview details you can share as we look forward to our favorite time of year?

Absolutely! This year is particularly exciting for us. We'll have two "firsts" for The Wolfsonian: Deco, our first major exhibition devoted to Art Deco, which will feature tons of objects from the collection that are rarely displayed; and Made in Italy, a show of Italian textile design that marks our first major collaboration with The Wolfsoniana, our sister museum in Genoa, Italy. Both will be visual treats for old fans and new visitors alike.

In addition, we're unveiling specially for Art Basel a contemporary art project by the Parisian design studio H5. We invited H5 to create something for our building that plays on the themes and objects of the collection, and their response is a dynamic piece called This Is Not a Temple. The installation will announce this statement in bold graphics across our façade—shouting from the rooftops, so to speak, that we are indeed a public institution, welcoming your curiosity and inviting you in! At nighttime there will also be an animation that further brings the collection, and in particular our Wrestler mascot, to life. Together these two elements will show off to everyone on Washington Avenue that we are part of that vibrant spirit that makes South Beach special. I'm excited to see it come to fruition.
Who are some of your favorite artists right now and what mediums are seeing as emerging?

I have seen more artists and collectors working with architects to create large, site-specific work. Two of my favorite artists, Anish Kapoor and James Turrell, had two large installations featured predominantly in Axel Vervoordt's private museum outside of Antwerp. I had the pleasure of visiting the museum recently and I was amazed by the beauty of both art installations so carefully sited inside retrofitted historic buildings.
Tell us about your favorite exhibition currently on display and why.

At the Vervoordt museum I viewed an exhibition of Bosco Sodi's sculptures and paintings, both highlighting materiality. Huge, solid sculptures of dried clay, and deeply encrusted canvases with raw pigment. What I liked was how his work conveyed, with a singular passion, the core of art—material transformed. Art deeply marinated in the social, economic, and identity issues of the 21st century has become predictable and makes me weary.
Why is Miami Beach the perfect home for The Wolfsonian?

At first glance The Wolfsonian might seem unexpected on Miami Beach, but once you get to know us our location feels incredibly natural. We're situated right in the heart of South Beach's Art Deco district, so there's a strong architectural and thematic tie-in to our collection and time period right off the bat.

Our institutional personality, if you will, is also very in tune with our city—we're elegant but playful, and we pack a few surprises, which is an element that dovetails nicely with Miami Beach's historic reputation as a playground. People come here from around the world to have a bit of an "outside-of-the-box" experience, and I believe The Wolfsonian suits that characterization perfectly.
What makes Miami Beach like no other place in the world from your perspective?

Miami Beach is at the crossroads of the world, where peoples and cultures from North America, Latin America and the Caribbean, and Europe intermix and influence each other. There are few places on the entire planet that are as cosmopolitan while maintaining such a unique local flavor.

The spectacular winters and beautiful beaches have always bestowed a certain glamor, too, and of course the way Art Basel Miami Beach centers such a cultural spotlight on Miami Beach every year is a huge draw for all of us in the arts. There is a reverence here for culture and an openness to exploration that are rare assets to South Florida.
---
About Miami Beach Visitor & Convention Authority
The MBVCA is a seven member authority, appointed by the City of Miami Beach Commission, with the goal of encouraging, developing and promoting the image of Miami Beach locally, nationally and internationally as a vibrant community and superb tourist destination. To this end, the MBVCA strategically focuses its funding investments in a balanced manner, fostering outstanding existing programs, stimulating new activities, and encouraging partnerships. The MBVCA is committed to a careful, long-term plan for allocation of resources to build the uniqueness of Miami Beach as ones of the world's greatest communities and tourism destinations.