Stephen G. Hertz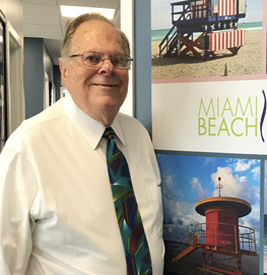 Stephen Hertz has been a resident of Miami Beach since 1942. He attended North Beach Elementary, Nautilus Middle School, Miami Beach Senior High School, and is a graduate of the University of Miami School of Law.
He was first appointed to the MBVCA in January 2002 and served on its Board of Directors through December 2007. He was re-appointed by the Miami Beach City Commission in January 2014 and will serve through December 2019.
He is a trial attorney with the Law Offices of Stephen G. Hertz where he has practiced since 1965, a Professional Guardian and President of ANGEL CARE MANAGEMENT, Inc., a company that provides LIFE CARE supervision and management to disabled individuals and elderly persons who are not able to care for themselves.
Mr. Hertz's civic experience includes serving on various Miami Beach boards including the City of Miami Beach Planning Board, the Nuisance Abatement Board, the Convention Center Advisory Board and the Budget Advisory Board. He is a past member of the Board of Directors of the Normandy Shores Homeowners Association having served as its Treasurer for many years, and a past Director of the North Beach Development Corporation.
Mr. Hertz is a past President of the Miami Beach Bar Association and currently serves on its Board of Directors. He is a Director of the South Florida Guardianship Association and was a member of the Florida State Guardianship Association Board of Directors for over 15 years. Steve is a member of the Trial Lawyers and Elder Law sections of the Florida Bar.
Stephen Hertz is proud to have been chosen to be a participant of the Miami Beach Visual Memoirs Project and to be part of the history of Miami Beach. He is extremely proud to be a member of the seven-member MBVCA board which has won the 2016 and the 2017 World's Leading City Tourist Board by World Travel Awards and the 2016, 2017 and 2018 North America's Leading Tourist Board.