A Unique Culinary Journey Awaits Travelers in Miami Beach During Miami Spice Months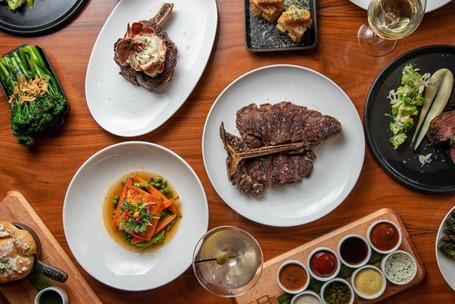 A Unique Culinary Journey Awaits Travelers in Miami Beach During Miami Spice Months
Miami Beach is bursting with flavor this season as destination eateries celebrate the return of Miami Spice Months! Available now through September 30th, locals and tourists alike can enjoy discounted menus at new and classic restaurants throughout the city. With three-course lunches and brunches priced at $28 and three-course dinners for $42, foodies are sure to discover a new culinary favorite or two and learn yet another reason why Miami Beach is truly like no other place in the world. Enjoy dishes from the city's newest restaurants, like Strawberry Moon, and Miami Beach staples like STK and Villa Azur, and be prepared to tantalize your taste buds.
"It's no secret that Miami Beach boasts a host of award-winning restaurants, and we're thrilled to invite travelers and locals to rediscover our city's unique culinary scene during Miami Spice Months," said Steve Adkins, Chairman of the Miami Beach Visitor and Convention Authority (MBVCA). "Miami Beach is a melting pot of cultures and this shines through in our diverse cuisine. Visitors now have the chance to expand their palate by experiencing flavors from all across the globe this summer at a fraction of the cost."
Travelers who take advantage of Miami Spice Months on Miami Beach will embark on a culinary journey unlike any other. James Beard award-winning chefs like Jose Mendin, Paul Qui, and Douglas Rodriguez will dish up a variety of fare, from Asian-inspired cuisine at Pao by Paul Qui at Faena Miami Beach to sushi at Pubbelly Sushi Miami Beach.
Food lovers ready for unique epicurean experiences this summer will have several restaurants to choose from, including:
"Miami Spice Months serves as another marquee event that caters to locals and visitors alike here on Miami Beach," said Grisette Marcos, Executive Director of the MBVCA. "With the finest restaurants serving up dishes at unbeatable prices, we're encouraging everyone to grab their family and friends and take a bite out of our city this season."
For more information on Miami Spice Months deals on Miami Beach, follow @ExperienceMiamiBeach on Facebook, Instagram, and @EMiamiBeach on Twitter, and download the Experience Miami Beach App at http://www.miamibeachapi.com/app/.
---
About Miami Beach Visitor & Convention Authority
The MBVCA is a seven member authority, appointed by the City of Miami Beach Commission, with the goal of encouraging, developing and promoting the image of Miami Beach locally, nationally and internationally as a vibrant community and superb tourist destination. To this end, the MBVCA strategically focuses its funding investments in a balanced manner, fostering outstanding existing programs, stimulating new activities, and encouraging partnerships. The MBVCA is committed to a careful, long-term plan for allocation of resources to build the uniqueness of Miami Beach as ones of the world's greatest communities and tourism destinations.