Miami Beach Invites Travelers to Unwind with Unbeatable Deals for Miami Spa Months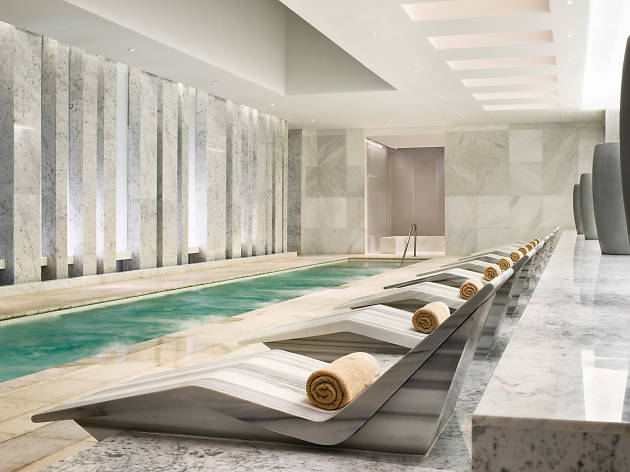 Miami Beach Invites Travelers to Unwind with Unbeatable Deals for Miami Spa Months
Locals and vacationers can de-stress and enjoy luxurious spa offers to detox and rejuvenate the mind, body, and soul
Miami Beach, FL – July 8, 2021 – Miami Beach is renowned for its wide array of award-winning spas located throughout the city. Now, as the summer kicks into high gear, locals and visitors in need of a relaxing respite can take advantage of unbeatable deals as part of Miami Spa Months, taking place now through August 31, 2021. As part of the two-month promotion, guests can enjoy up to 50 percent off a variety of treatments – from pampering with an open-air spa facial, to indulging in a Swedish or Balu fusion massage, or even disconnecting with a private couple's mud bath treatment.
"Now more than ever, we can all use some self-care, and we're inviting travelers to indulge in tranquil spa treatments in celebration of Miami Spa Months," said Steve Adkins, Chairman of the Miami Beach Visitor and Convention Authority (MBVCA). "As the poster child for relaxation and renewal under the sun, Miami Beach is ready to pamper travelers and help them decompress, so they can return home feeling refreshed and recharged."
Earlier this year, 86 percent of Americans reported emotions associated with prolonged stress, including anxiety and anger, according to a study by the American Psychological Association. The study also found an increase in unhealthy weight gain and drinking due to high stress levels. However, according to the Mayo Clinic, integrative medicines – like massages – are standard treatments for reducing stress, pain, and tension while improving blood pressure, immune function, and increasing overall relaxation.
"Following the events of the past year and a renewed focus on wellness, the proverb 'health is wealth' has never been more accurate or top of mind," said Grisette Marcos, Executive Director of the MBVCA. "The offers included as part of Miami Spa Months are truly unbeatable, making now the perfect time to escape from the daily to-dos and enjoy an overdue detox escape to Miami Beach."
Travelers ready to embark on their detox journey will have several luxury destination spas to choose from this summer. A few highlights include:
For more information on Miami Spa Months deals on Miami Beach, follow @ExperienceMiamiBeach on Facebook, Instagram, and @EMiamiBeach on Twitter, and download the Miami Beach App at http://www.miamibeachapi.com/app/.
---
About Miami Beach Visitor & Convention Authority
The MBVCA is a seven member authority, appointed by the City of Miami Beach Commission, with the goal of encouraging, developing and promoting the image of Miami Beach locally, nationally and internationally as a vibrant community and superb tourist destination. To this end, the MBVCA strategically focuses its funding investments in a balanced manner, fostering outstanding existing programs, stimulating new activities, and encouraging partnerships. The MBVCA is committed to a careful, long-term plan for allocation of resources to build the uniqueness of Miami Beach as ones of the world's greatest communities and tourism destinations.