Miami Beach is a Sweet Spot in 2023 for Travelers Looking to Make Their Vacation Budget Go Farther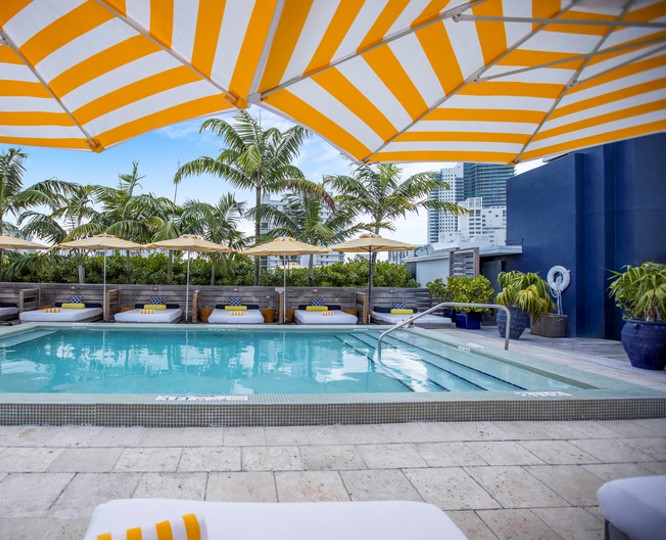 Destination Hotels Abound, Offering Amenities, Views and Packages Perfect for Spring and Summer Getaways
Miami Beach, FL February 21, 2023 - Vacationers are looking to get the best of both worlds in 2023, focusing on more frequent, spontaneous trips paired with solid, three-star accommodations. As they look to counter rising travel costs, Expedia has noticed a 20% increase in three-star hotel bookings and searches for "three-star hotels with a view," indicating the desire to save on hotels and leave more to spend on activities, experiences, tours and meals.* With a stellar selection of recognized three-star hotels, Miami Beach is a bona fide sweet spot for those in search of comfortable and relaxing hotel options, value add offers and packages that make it easier than ever to visit the destination in the coming months.
"Visitors planning a trip to Miami Beach don't have to sacrifice amenities, stylish interiors, views or unique offerings to stay within their desired travel budget. Three-star properties perfectly deliver on comfortable rooms, culinary inclusions and complimentary parking options without the sticker shock, leaving vacationers with more opportunities to spend time exploring our world-famous destination," says Christopher Rollins, Chair of the Miami Beach Visitor and Convention Authority (MBVCA). "We encourage travelers to find their sweet spot and use their savings to discover our city by indulging in our museums, public art installations, immersive dining destinations, water sports offerings and abundance of leisure activities."
With one-third of travelers preferring to go on more trips in three-star properties than splurge on one big luxury getaway this year, Miami Beach is ready to welcome visitors to stand-out properties like The Catalina Hotel & Beach Club.** Featuring two pools, two popular restaurants and four bars, The Catalina Hotel & Beach Club is a hot spot for fun and entertainment. Guests can enjoy complimentary wifi, beach towels for use during their stay and a daily happy from 5-6 p.m. offering a signature cocktail, all set amongst a chic and stylish backdrop. Active travelers will love a stay at Uma House South Beach, a destination hotel with a full selection of services and offerings including a rooftop terrace, beach loungers and umbrellas and bicycles available to guests. Complimentary yoga by Miami Beach -based Warrior Flow Yoga is available on the Sunset Rooftop on Saturdays at 9 a.m., providing an opportunity to connect with fellow travelers and locals. As one of the best kept secrets on the beach, Townhouse Miami Beach brings a playful combination of modern design together with old-fashioned comfort found in the midst of South Beach. Kids even stay free at this tucked away retreat making it easier for families to get away.
"We understand travelers want more from the destinations they visit and to help them make future decisions, the MBVCA has launched an updated newsletter for travelers to access insider tips and information on special offers and discounts," adds Grisette Marcos, Executive Director of the MBVCA. "Subscribers can expect the most updated available information on Miami Beach including deals on hotels, experiences, activities, performances and overall destination recommendations." Those ready to become a Miami Beach insider can sign up now at https://www.miamibeachvca.com/. For more information about three-star hotel options and to plan a future trip to award-winning Miami Beach, download the Experience Miami Beach and EXP Miami Beach Tour App Miami Beach Apps and follow the @experiencemiamibeach handles on Instagram and Facebook.
*/** according to recent data released by Expedia.com
---
About Miami Beach Visitor & Convention Authority
The MBVCA is a seven member authority, appointed by the City of Miami Beach Commission, with the goal of encouraging, developing and promoting the image of Miami Beach locally, nationally and internationally as a vibrant community and superb tourist destination. To this end, the MBVCA strategically focuses its funding investments in a balanced manner, fostering outstanding existing programs, stimulating new activities, and encouraging partnerships. The MBVCA is committed to a careful, long-term plan for allocation of resources to build the uniqueness of Miami Beach as ones of the world's greatest communities and tourism destinations.