Miami Beach Recognized by World Travel Awards as "North America's Leading Beach Destination" and "North America's Leading City Destination" 2023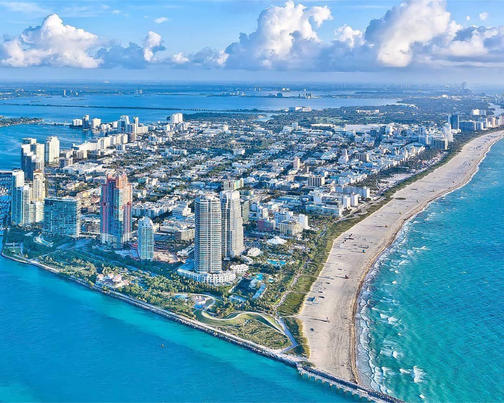 The Miami Beach Visitor and Convention Authority's continuous efforts to enhance the destination and traveler experience support recent award wins
Miami Beach, FL. October 2, 2023. Miami Beach's award-winning reputation continues with two recent accolades from one of the industry's most recognized and respected organizations, the World Travel Awards. Miami Beach is officially "North America's Leading Beach Destination" and "North America's Leading City Destination" 2023. These awards are testaments to the city's established position as an international destination offering a celebrated arts + culture scene, Michelin-starred restaurants, iconic beaches and famous art deco architecture.
"Miami Beach is a global destination that seamlessly blends the natural beauty of our beaches with notable city experiences. We are proud to receive these recent World Travel Awards in the leading beach and leading city categories representing North America," says Christopher Rollins, Chair of the Miami Beach Visitor and Convention Authority (MBVCA). "The Miami Beach Visitor and Convention Authority is dedicated to providing ongoing support and innovation as our city continues to grow and attract visitors from around the world."
The North America award wins follow the MBVCA's recent "Connect with the Waters" campaign that launched this spring with a focus on the area's beaches and surrounding waters. The integrated campaign included a video series showcasing Miami Beach's marquee organizations that offer water and beach-centric experiences. The videos are available to view now on Instagram via the @experiencemiamibeach handle.
In addition to being named North America's Leading City Destination, the MBVCA has recently debuted the new EXP Miami Beach App. Now available for download on Google Play and Apple, the EXP Miami Beach Tours App features dedicated itineraries including a cultural institutions tour, public art tour, art deco tour and more, all developed to help users discover new, hidden and iconic landmarks throughout the city.
"Our recent campaigns and innovation efforts across a number of platforms have and will continue to elevate Miami Beach as a leading beach and leading city destination," adds Grisette Marcos, Executive Director of the MBVCA. "We look forward to introducing new resources and opportunities to travelers as they make future vacation plans."
Miami Beach is now nominated for the "World's Best" recognition in both categories as a result of their regional wins. Winners will be announced later this year. For more information and to plan a future trip to award-winning Miami Beach, download the EXP Miami Beach Tours App and follow the @experiencemiamibeach handles on Instagram, Threads and Facebook for the most up-to-date details and offerings.
---
About Miami Beach Visitor & Convention Authority
The MBVCA is a seven member authority, appointed by the City of Miami Beach Commission, with the goal of encouraging, developing and promoting the image of Miami Beach locally, nationally and internationally as a vibrant community and superb tourist destination. To this end, the MBVCA strategically focuses its funding investments in a balanced manner, fostering outstanding existing programs, stimulating new activities, and encouraging partnerships. The MBVCA is committed to a careful, long-term plan for allocation of resources to build the uniqueness of Miami Beach as ones of the world's greatest communities and tourism destinations.