Adrian Gonzalez
Board Member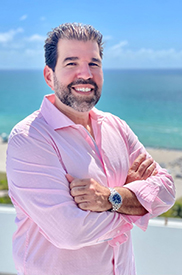 Adrian Gonzalez was appointed to the MBVCA in May 2023. He is currently the President of AG Ventures and Productions and David's Café Cafecito where he oversees operations, growth and rebranding. Previously, Mr. Gonzalez was the Vice President of David's Café where he oversaw restaurant operations and spearheaded company-wide public relations and marketing. He was appointed to the Academy of Hospitality & Tourism Advisory Board in August 2016. In October 2015, Adrian created & founded the non-profit, AG Youth Hospitality Project, which is the driving force in creating the Miami Beach Senior High School culinary classroom project that commenced in the fall term of 2016.
Adrian has sat on various Miami Beach boards and committees to include the Marine Animal Rescue Society, Transportation and Parking Board, and was President of the Lincoln Road Mercantile Association.
When not involved with his community, Adrian enjoys boating, playing tennis, traveling, and Miami Heat games. Adrian attended Tallahassee Community College and is also a proud graduate of Miami Beach Senior High School. He resides in Miami Beach with his wife Laura and their sons Dylan & Theo.