George Neary
Board Member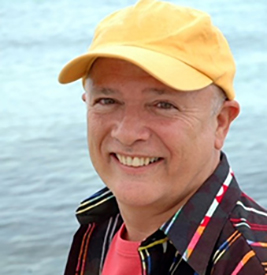 George Neary was appointed to the MBVCA in January 2020. He is currently the President & CEO of Tours "r" Us, a tour company that curates tours concentrated on the historic communities of Miami Beach, the historic Art Deco District, MiMo resort architecture; Wynwood, Miami Design District, Little Havana, Little Haiti, Downtown Miami, Historic Overtown, Coconut Grove and beyond.
He was previously Associate Vice President of Cultural Tourism for the Greater Miami Convention & Visitors Bureau (GMCVB) since 1998 until his retirement in 2018. He was in charge of the creation and implementation of a new arts and cultural program for Miami-Dade County and directed promotional programs that encouraged and increased visitor attendance at local cultural events and attractions. His job also included creating linkages and partnership between Greater Miami businesses and the arts community. During his tenure. his targets were cultural tourism, heritage tourism, and gay & lesbian tourism.
Prior to his tenure at the GMCVB, George was the Executive Director of the Miami Design Preservation League of Miami Beach, Florida, where he was responsible for creating marketing and public outreach programs to preserve the historic Art Deco District, better known as South Beach, for seven years. He is currently serving as a Trustee for Dade Heritage Trust; is a past Trustee of Miami-Dade Art in Public Places, is a past board member of the Florida Trust for Historic Preservation, Co-Chair of The Miami Beach Sister Cities International Miami Beach Committee, and a founding member of The Miami Beach Cultural Arts Council. Additionally, he for served 8 years and was a founding member on the Miami Beach Pride Committee; founding member of the Mayor's LGBT Business Enhancement Committee and served for 7 years, holds membership in the Black Archives is a founding board member of the Greater Miami Gay & Lesbian Chamber of Commerce, and is an Advisor from Florida to The National Trust for Historic Preservation in Washington, D.C. He is also an adjunct professor at Miami Dade College and the former Chair/Member of the Board of Advisors at the Design and Architecture Senior High School (DASH). He is also on the Board of Directors and Fundraising Chair for the MDCPS Academy of Hospitality and Tourism (AOHT). George is also a Board member of the Ancient Spanish Monastery; Vice President of the Flamingo Terrace Enterprise; Vestry Board member of All Souls Episcopal Church in Miami Beach, and Board Member for the Miami Beach Visitor and Convention Authority. George was previously the President of Neary Enterprise in Brooklyn, New York, that created, directed, and administrated marketing, advertising, and promotional plans. He was Director of U.S. Marketing for AFS Intercultural Programs, Inc. the International student and teacher exchange program in New York. George was also with the Peace Corps for seven years as training and orientation coordinator, recruiter/publicist, and a volunteer in St. Vincent & The Grenadines, West Indies.
He received his B.A. from St. Anselm College in Manchester, New Hampshire, and has been involved in many community organizations over the years.